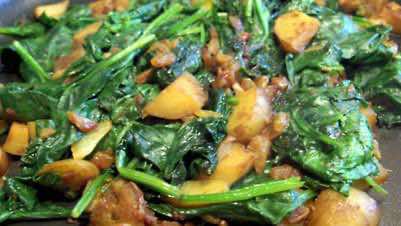 Saag Aloo
Entree • LotsaVeggies, Optionally veg*n, Soup/Stew, Weeknight
Ingredients
1c brown rice
½ c cowpeas
2 Tbl oil
1 large onion , chopped
2 large potatoes , cubed (or 1 potato and 1 turnip)
1 c. diced cooked chicken, 1 can chickpeas, paneer, or tofu (pick one)
1 teaspoon fresh ginger , grated
1 minced garlic
1 teaspoon ground cumin
1 teaspoon turmeric
1 teaspoon garam masala
1 tsp curry powder
1 1/2 tsp. salt
¾ c. water
400 g spinach or 400 g chard leaves , stalks removed, roughly chopped
1/4-1/2 c. coconut milk (opt)
Directions
Cook the rice and beans together in 3 c water and ½ tsp salt for 45 mins (20 Oz water /20 mins if pressure cooking).
Meanwhile, Sauté the onion in oil.
Add the potato, ginger, garlic, cumin, turmeric, garam masala, and salt and fry until fragrant.
Add 1/2 c. water, stir to make sure potatoes aren't sticking, cover, and simmer 5-7 minutes until potatoes are nearly done. Add more water if needed to keep potatoes from sticking.
Add the spinach or chard (and chicken, if using) and cook until it collapses over the potato.
Add coconut milk at the end, if using. Adjust salt and water to achieve desired consistency.
Serve over rice.
Photos