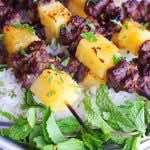 Thai Beef & Pineapple Kabobs Sheet Pan Dinner (Paleo, AIP, Whole30) - Eat Beautiful
Ingredients
1-1/2 pounds beef sirloin thinly sliced
1 pound pineapple , fresh, cut into 1" cubes
1 onion , cut in half, cut into wedges and wedges cut in half (for skewering)
1 Tablespoon avocado oil + more for greasing baking sheet
1 Tablespoon coconut aminos
1 Tablespoon fish sauce
1 Tablespoon fresh ginger finely grated
1 clove garlic
1 teaspoon sea salt
Directions
1. Grease a large cookie sheet with avocado oil. If you haven't already, thinly slice steaks, cutting against the grain.
2. Marinate meat: In large bowl, stir together avocado oil, coconut amino acids, optional fish sauce, ginger, garlic and sea salt. Add meat and stir well to coat. Set aside for 20 minutes. (Do not marinate beef for an extended period of time.)
3. If you haven't yet, cut the pineapple and onion. (See How to Cut Pineapple photos in the Recipe Notes.) Set oven to broil and move an oven rack to the highest level.
4. Place beef, pineapple and onions on skewers, leaving about 1-1/2 inches on each end. (See How to Assemble Kabobs photos in the Recipe Notes.)
5. Line up skewers on greased cookie sheet.
6. Broil beef until cooked through (just beginning to char on the edges), 8-10 minutes. Watch closely, checking on it occasionally. (Pan juices will collect while broiling. Carefully pour these off into a small saucepan or dish by tipping pan to one corner. If desired, use pan juices over rice when serving, and/or thicken pan juices first. See Recipe Notes for how to thicken.)
7. Serve with cauliflower rice or organic Basmati rice (for GF). Garnish with chopped fresh mint leaves and coconut amino acids.
8. Notes
9. In small bowl, stir together 1 Tablespoon tapioca flour (or white rice flour is fine for GF) and 2 Tablespoons broth.
10. In small saucepan, bring pan juices to a simmer.
11. Add one Tablespoon coconut oil (or preferred fat) to pot.
12. Stir tapioca slurry again and add it to pot. Simmer briefly, stirring, until pan juices have thickened.
13. Use pan juices over rice. (If you don't have a full cup pan juices, add a bit of broth to equal 1 cup.)
14. How to Cut Pineapple
15. How to Assemble Kabobs
16. To thicken one cup or more pan juices (not for GAPS):
1) Cut off the top (crown) and bottom of pineapple. Slice off the peel, including the brown "eyes". 2) Cut the sides of fruit from the core. 3) Slice and cube sides of fruit.
1) Thread meat onto skewer by weaving the slice back and forth so the whole length stays put. 2) Alternate meat with onions and pineapple.
Photos