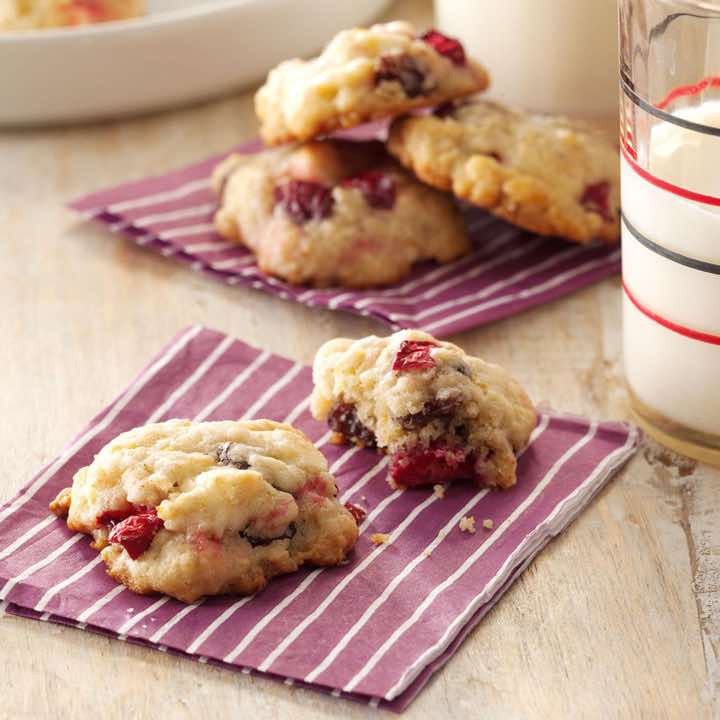 Double Cranberry Oatmeal Cookies
Ingredients
1 cup butter, softened
1-1/2 cups sugar
2 large eggs
1 teaspoon vanilla extract
2 cups all-purpose flour (240 grams)
1 teaspoon baking powder
1/2 teaspoon salt
1/4 teaspoon baking soda
2 cups quick-cooking oats
1 cup dried cranberries
1 cup coarsely chopped fresh or frozen cranberries
1 tablespoon grated orange zest
1 package (10 to 12 ounces) white baking chips
Directions
1. In a large bowl, cream butter and sugar until light and fluffy. Add eggs, one at a time, beating well after each addition. Beat in vanilla. Combine the flour, baking powder, salt and baking soda; add to the creamed mixture. Stir in the oats, raisins, cranberries and orange zest. Stir in baking chips.
2. Drop by rounded teaspoonfuls 2 in. apart onto greased baking sheets. Bake at 375° until the edges are lightly browned, 10-12 minutes. Cool on wire racks.
Notes for my janky oven:
Smallest scoop, 12/pan, 15 minutes at 375, flip halfway through.
4 dozen that way.
Notes
Original recipe had raisins instead of dried cranberries.
Nutrition
Amount per serving
Calories: 89
Total Fat: 4g
Cholesterol: 13mg
Sodium: 50mg
Total Carbohydrate: 12g
Dietary Fiber: 0g
Protein: 1g
Photos