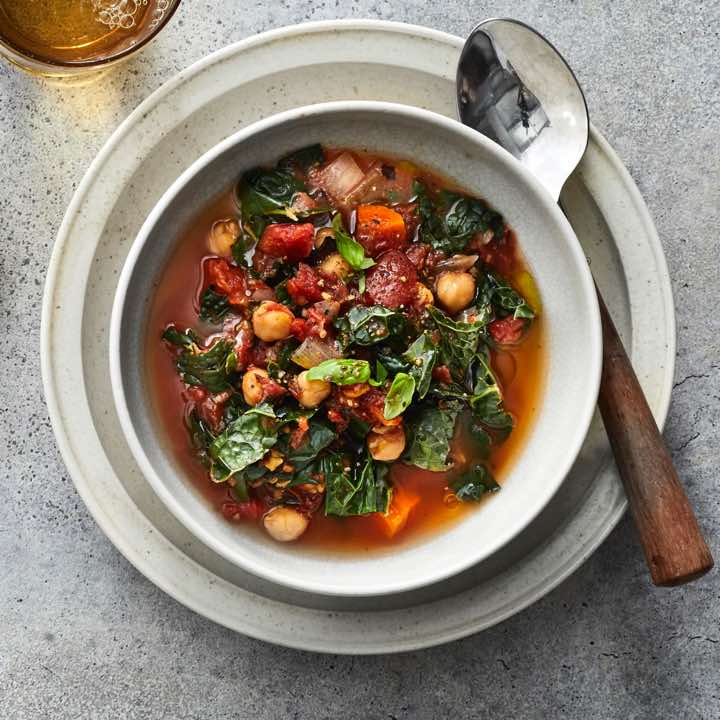 Slow-Cooker Mediterranean Stew
Cook time:
6 hours 45 mins
Ingredients
2 (14 ounce) cans no-salt-added fire-roasted diced tomatoes
3 cups low-sodium vegetable broth
1 cup coarsely chopped onion
¾ cup chopped carrot
4 cloves garlic, minced
1 teaspoon dried oregano
¾ teaspoon salt
½ teaspoon crushed red pepper
¼ teaspoon ground pepper
1 (15 ounce) can no-salt-added chickpeas, rinsed, divided
1 bunch lacinato kale, stemmed and chopped (about 8 cups)
1 tablespoon lemon juice
3 tablespoons extra-virgin olive oil
Fresh basil leaves, torn if large
6 lemon wedges
Directions
1. Combine tomatoes, broth, onion, carrot, garlic, oregano, salt, crushed red pepper and pepper in a 4-quart slow cooker. Cover and cook on Low for 6 hours.
2. Measure 1/4 cup of the cooking liquid from the slow cooker into a small bowl. Add 2 tablespoons chickpeas; mash with a fork until smooth.
3. Add the mashed chickpeas, kale, lemon juice and remaining whole chickpeas to the mixture in the slow cooker. Stir to combine. Cover and cook on Low until the kale is tender, about 30 minutes.
4. Ladle the stew evenly into 6 bowls; drizzle with oil. Garnish with basil. Serve with lemon wedges, if desired.
Nutrition
Amount per serving
Calories: 191
Total Fat: 7.8g
Saturated Fat: 1g
Sodium: 415.5mg
Total Carbohydrate: 22.9g
Dietary Fiber: 5.6g
Sugars: 6.5g
Protein: 5.7g
Photos