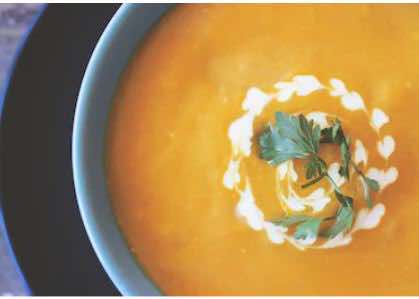 Chef Eduardo's Souperb Butternut Squash Soup
Appetizer, Main Dish • Soup
Source:
Irving Convention Center Chef Eduardo
Ingredients
2 Tbs Butter
2 Tbs Olive oil
2 Medium Shallots
1 carrot peeled and fine diced
3 spearscelery chopped fine diced
1 ea bay leave
5 pounds butternut squash peeled seeded and cut into quarters about the same size
2 qt chicken stock
1 qt heavy whipping cream
1 sprig fresh thyme
Nutmeg small dash
2 oz maple syrup
Salt and black pepper to taste
Directions
In a stockpot add the butter and olive oil melt together medium high heat. Add the shallots carrot, bay leave, butternut squash, thyme and celery cook stirring occasionally about 5 minutes. Add chicken stock, dash of nutmeg and syrup, continue to boil until squash is tender about 20minutes, add the heavy cream, salt and pepper to taste. Turn off the heat, using an immersion blender; blend the mixture until smooth and tick, strain in a fine china cup.
The cooked mixture can also be pureed after cooling for 10minutes by batches into a food processor or blender and blended until smooth.
Photos