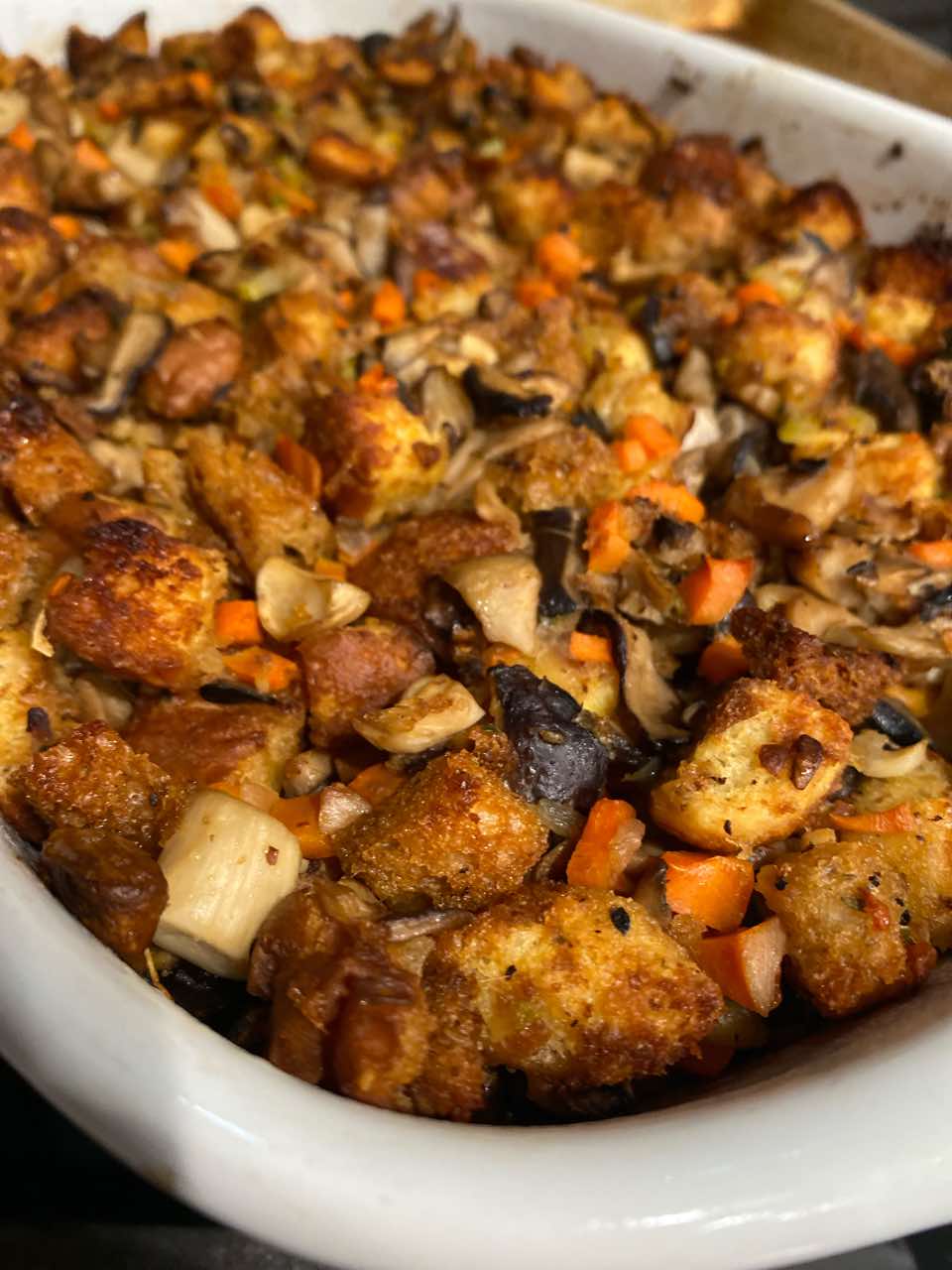 MCM Mushroom Stuffing
Serving size:
Makes 8 to 10 servings
Ingredients
1 large bakery-style rustic bread loaf, like French bread or sourdough, any bread will work. (14 to 16 ounces) we even used brioche hamburger buns.
6 tablespoons (90 ml) olive oil
2 pounds (900g) all mushrooms will work. We used black pearl and shiitake.
2 cups diced yellow onion (1 large onion)
½ cup of peeled and chopped carrots
1 1/2 cups diced celery (3 large celery stalks)
1 tablespoon minced garlic (3 cloves)
2 tablespoons finely minced fresh sage or 2 teaspoons dried sage
1 tablespoon finely minced fresh thyme leaves or 3/4 teaspoon dried thyme
1 farm egg whisked
2 to 3 cups (470 ml to 700 ml) rich vegetable broth or use chicken or turkey broth, careful not to add too much
1/4 cup fresh chopped parsley or 1 1/2 tablespoons dried parsley
3/4 teaspoon fine sea salt, plus more to taste
1/2 teaspoon fresh ground black pepper
Directions
1. Heat the oven to 350 degrees Fahrenheit (176° C).
2. Cut bread into 1-inch cubes, spread out onto a large rimmed baking sheet, and bake, stirring every so often, until the bread is dry and hard on the outside, 20 minutes.
3. While the bread bakes, prepare and cook the vegetables. Chop the mushrooms into very small pieces either by hand, we like it rustic and chunky Transfer to a bowl, and then repeat with the remaining mushrooms.
4. Heat the olive oil in a large Dutch oven or deep pot over medium heat, and then add the mushrooms. Cook, stirring often, until the liquid has evaporated and they are starting to brown, 5 to 8 minutes.
5. Stir in the onions, carrot, celery, garlic, sage, and thyme. Cook, stirring often, until the onions have softened and smell sweet, about 5 minutes. Season with salt and pepper — start with 3/4 teaspoon salt and 1/2 teaspoon pepper, taste, and then add from there.
6. Take the pot off of the heat, and then stir in the broth. Taste the mixture once more and check the seasoning. If it needs it, add a pinch more salt. Stir in the bread cubes and half of the parsley. Then add your one egg. If after the bread is well mixed into the vegetable mixture, it still looks dry, add 1/4 cup more broth or more until the bread looks moist, but stop before there is excess liquid at the bottom of the pot.
7. Transfer the stuffing mixture to a lightly greased baking dish (use a deep 8-inch x 8-inch square pan, 9-inch by 13-inch dish or similar). Cover with a layer of foil, and then bake for 30 minutes. Uncover the stuffing, and bake another 10 minutes or until the top is golden brown and crisp on top. Serve with the remaining parsley scattered on top.
Nutrition
Amount per serving
Serving size: 1 of 8 servings
Calories: 270
Total Fat: 11.4g
Saturated Fat: 1.6g
Cholesterol: 0mg
Sodium: 694.7mg
Total Carbohydrate: 37.2g
Dietary Fiber: 4.2g
Sugars: 5.2g
Protein: 7.2g
Photos