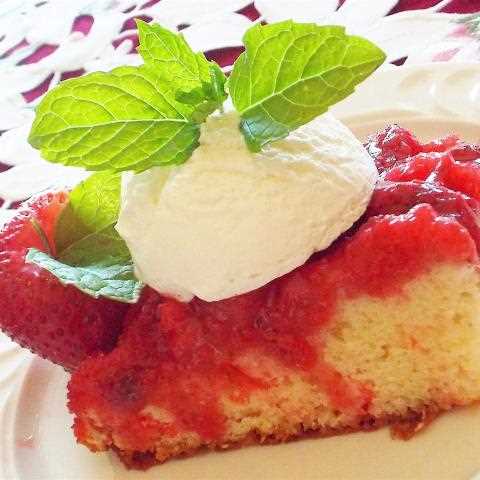 Maura's Fresh Strawberry Upside Down Cake
Source:
Maura Gast courtesy of allrecipes
Ingredients
2 cups fresh strawberries ; crushed
1 (6 ounce) package strawberry flavored Jell-O® mix
3 cups miniature marshmallows
1 (18 ounce) package yellow cake mix ; prepare cake as instructed on the box
Directions
Step 1
Preheat an oven to 350 degrees F
Step 2
Spread crushed strawberries on the bottom of a 9x13 inch baking pan. Sprinkle strawberries with the dry gelatin powder, and top with mini marshmallows.
Step 3
Prepare the cake mix as directed on the package, and pour on top of the marshmallows. Bake in the preheated oven about 40 to 50 minutes. The cake is ready when a toothpick inserted in the middle comes out clean. Cool 15 minutes and turn the cake upside down onto a serving tray.
Optional: Step 4
Add whip cream and mint sprig to each delicious slice. (Maura skips this step)
Notes
Fresh and easy peasy . A perfect recipe for the Fourth of July or any summer soiree for that matter.
Be sure to remember to buy the ingredients needed for the boxed cake. Also, you must crush the strawberries.
Photos