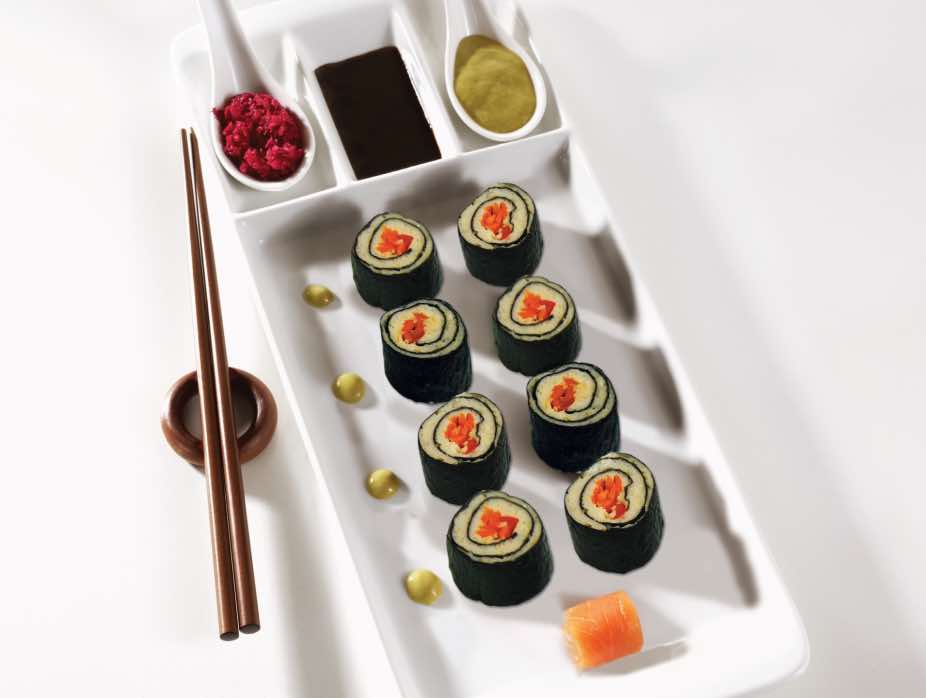 Sushi Gefilte Fish
Breakfast/Lunch, Main Dish, Side Dish/Salad • Fish, Parve
Ingredients
1 (20-ounce) roll Ungar's Gefilte Fish or Salmon Gefilte Fish, thawed
5 sheets nori seaweed
1 red bell pepper, thinly sliced
1/2 cup shredded carrots
Manischewitz Horseradish
Gefen Soy Sauce
wasabi sauce
Gefen Mayonnaise
Directions
1. Defrost the fish until it will spread evenly and divide into five equal portions.
2. Preheat the oven to 350 degrees Fahrenheit. Place a sheet of nori seaweed, shiny side down, on a flat surface. Gently spread one portion of gefilte fish on the seaweed. Arrange the sliced red peppers in a single row along one edge of the sheet. Follow with a row of shredded carrots alongside the peppers. Starting from the side with the peppers and carrots, tightly roll up the nori sheet jelly-roll style.
3. Repeat with the four remaining nori sheets. Transfer the rolls to a baking pan and bake, uncovered, for 25 minutes. Allow to cool, then refrigerate until firm.
4. When ready to serve, slice the rolls into one-inch pieces. Serve cold, with your choice of horseradish, soy sauce, wasabi sauce, or mayo for dipping.
Photos