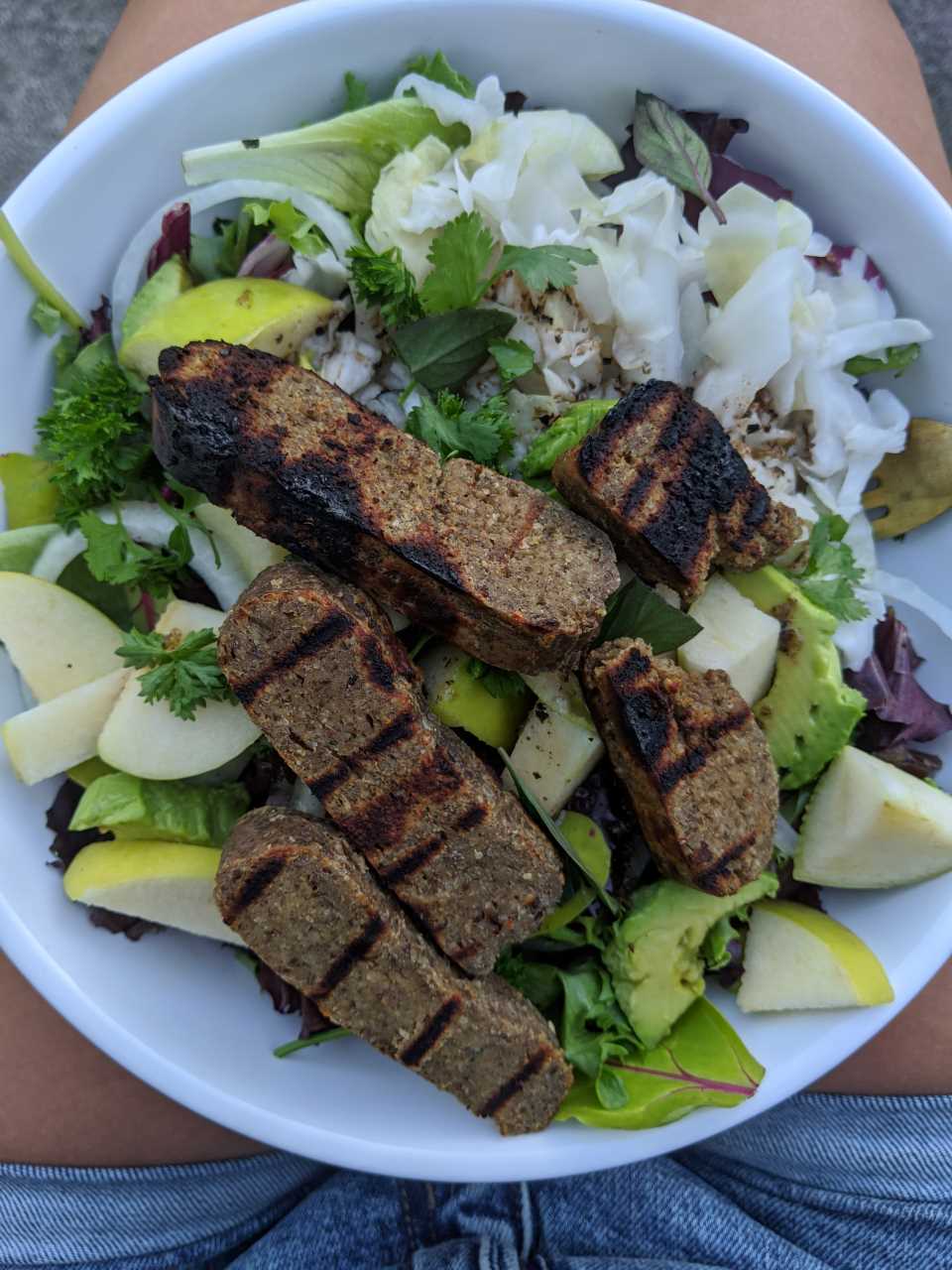 Protein-Packed Meat Substitute
• Beef, Chicken, Vegetarian
Ingredients
Tools:
Spatula
Measuring Cups
Food Processor
Coffee Grinder
Steamer/instant pot/pressure cooker
Parchment Paper
Grill
1 Cup Pea Protein Isolate, Plain
1/2 Cup Hulled Hemp Seeds
1/4 Cup Flax Ground Flax Seeds
1/2-3/4 Cup Warm Water
1 heaping Tbs Organic Shiso Miso
2 Tsp. Organic Dijon Mustard
2 Tbs Coconut Aminos
1 Tsp Sesame Seed Oil
1+ Tsp Smoke Flavor
Seasonings:
I used....
1 Tsp Onion Powder
1 Tsp Oregano
1 Tsp Foragers Broth Seasoning (from a local business)
1 1/2 Tsp Epicure Burger Seasoning
Other options....
Rosemary
Garlic
Paprika
Salt
Sage
All Spice
Thyme
Celery Seed
Marjoram
Black Pepper
Vegetable Broth
Directions
Step 1, start by making a flax egg. grind a few tbs of flax seeds in a coffee grinder until you have 1/4th cup when its ground. Add the warm water to the flax in a dish. Mix it around and let the flax + water mixture sit while preparing the rest of the ingredients.
Step 2, add all ingredients to a food processor. Make sure the flax is jelly before adding it. Use the spices you have or love and think meaty/poultry seasoning flavors. Dijon, smoke flavor, and coconut aminos are essential for flavoring, but experiment with the dried seasonings.
Step 3, scoop the blended mixture onto parchment paper and make a log with it. Fold the parchment paper around it like you're wrapping meat or a gift. Pat it down until you get a 1-1/2" thick rectangular loaf.
Step 4, Keep it wrapped up and set it in a steamer or pressure cooker on the steam setting. This lets it thicken up and partially cooks it so it gets nice and dense and cut-able.
Step 5, carefully remove it from the steamer and unwrap it. Cut it into chicken/steak-like strips like the picture.
Step 6, You could eat it like this, freeze or put it in the fridge to cook up later, bake it, fry it in a pan, or what I did was grilled them up the next day.
Enjoy them on a salad, smothered in BBQ as bbq "ribs" sandwich, dipped in sauces like chicken fingers, form them into patties to use as burgers, or crumble it and cook it up like ground meat for tacos and such.
Notes
Pea Protein Isolate is the best vegan source of quick protein. It is hypoallergenic and contains all 9 essential amino acids. Pea Protein is easy to digest and our body can easily absorb the protein from it. This protein powder promotes appetite control, weight-loss, and muscle growth, and is good for your heart and kidneys.
Hemp Seeds consist of more than 25% of their total calories from high-quality protein and 30% from essential fatty acids. They also contain all essential amino acids, lots of fiber, and are a great source of vitamin E.
Organic Miso is rich in essential minerals, B vitamins, vitamins E, K and folic acid. As a fermented food, miso provides the gut with beneficial bacteria.
Coconut Aminos is a healthier alternative to soy sauce. It is a fermented sap from coconut trees. The fermentation process breaks down the proteins into a whapping 17 amino acids! It is also full of potassium, vitamin C and B vitamins. The benefit of substituting it for soy is that it's low-glycemic, gluten-free, no MSG, GMOs, phytoestrogen or phytic acid!
Nutrition
Amount per serving
Serving size: 1/4th loaf
Calories: 234
Total Fat: 9g
Total Carbohydrate: 6g
Protein: 29g
Photos