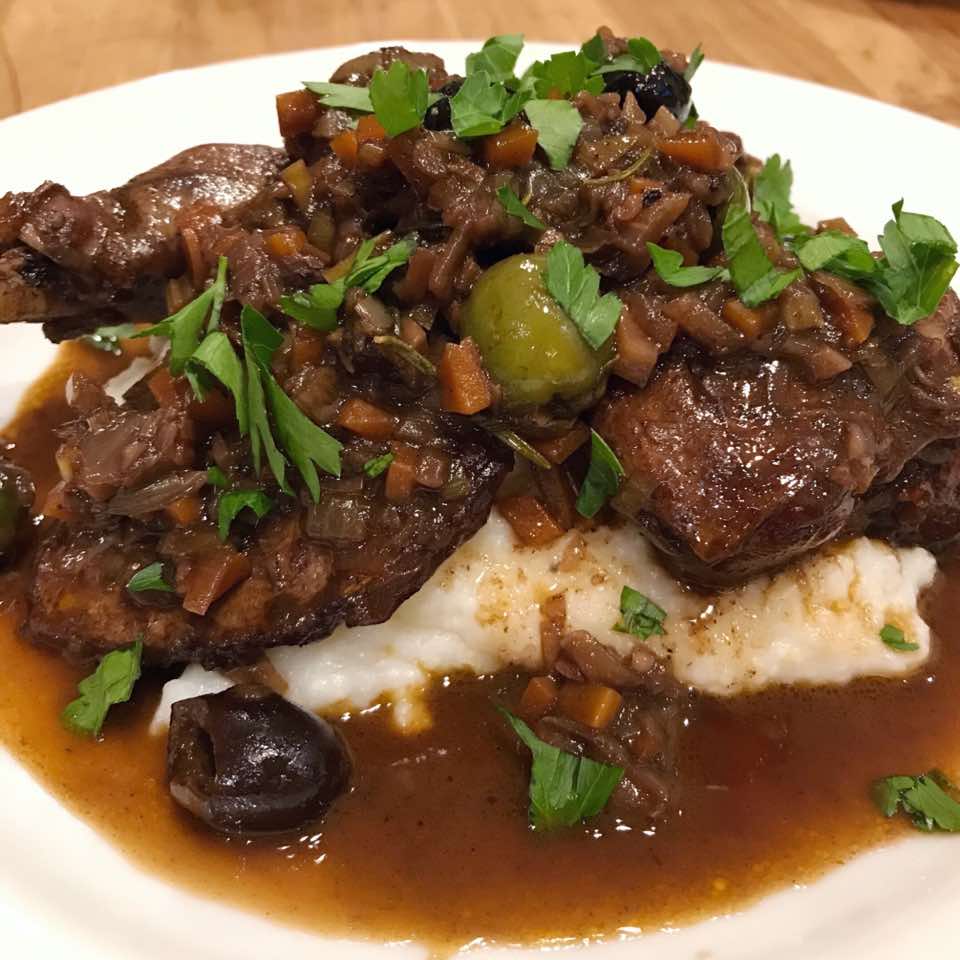 Rabbit Stew with Olives and Rosemary
Main Dish • Other meat, Stew
Cook time:
1 hour 30 mins
Ingredients
olive oil
1 rabbit cut into pieces
Salt and pepper
1 cup+ red wine, divided
½ cup Brandy
½ medium onion, finely chopped
1 medium carrot, finely chopped
1 celery rib, finely chopped
Chunk of fennel, finely chopped
1 leek, thinly sliced
2 cloves garlic, finely chopped
1 tsp butter
~ 2 tablespoons tomato paste
~ 1 tsp anchovy paste
4 rosemary sprigs (handful)
4 thyme sprigs (½ handful)
2 cups chicken stock (good with part other bird stock)
12-ish Niçoise olives
12-ish castelvetrano olives
Directions
In a large, deep skillet, heat 2 tablespoons of the olive oil. Season the rabbit with salt and pepper. Working in 2 batches, brown the rabbit over moderately high heat, turning occasionally, until crusty all over, about 10 minutes; lower the heat to moderate for the second batch. Transfer the rabbit to a bowl.
Tie the herbs in a bundle.
Add ½ cup wine to the skillet and cook over moderately high heat, scraping up any browned bits on the bottom of the pan. Pour the wine in with the rabbit; wipe out the skillet - only if needed.
Add more olive oil and the butter to the skillet. Add the onion, carrot, fennel , leek, garlic and celery and cook over moderate heat, stirring occasionally, until softened, about 8 minutes. Add the tomato paste, anchovy paste and rosemary/thyme bundle and cook, stirring, until the tomato paste begins to brown, about 5 minutes.
Add another ½ cup+ splash of wine and brandy. Simmer a few minutes. Add the rabbit and the reserved wine to the skillet and cook, stirring occasionally, until sizzling, about 3 minutes. Add 1 cup of the stock, season with salt and pepper and bring to a boil.
Cover partially and cook over low heat for 30 minutes, flipping meat once or twice. Add the olives and the remaining 1 cup of stock and cook until the sauce is slightly reduced and the rabbit is tender, about 20 minutes longer. Discard the rosemary bundles. Take the meat out and reduce the juices more. Finish with butter and serve over polenta or a puree.
Photos