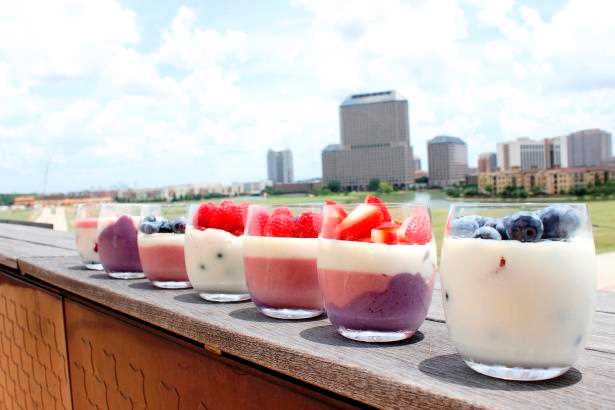 Chef's Panna Cotta Party
Source:
ICC Executive Chef Eduardo Alvarez
Ingredients
3 cups heavy whipping cream
1.5 teaspoon unflavored gelatin
1 tablespoon granulated white sugar
1 vanilla bean split and seed scraped
1 basket blueberries
1 basket raspberries
1 basket strawberries
Directions
Pour gelatin in small bowl with 2 tablespoon of water and set aside.
In a medium thick pot pour cream, sugar, scraped vanilla beans, over medium heat.
Bring to a simmer stirring constantly until sugar is dissolved.
Add gelatin mixture to heated cream, stir constantly until dissolved.
Divide berries evenly into 8 oz martini glasses to your liking.
Add the panna cotta evenly and refrigerate until firm, about two hours
Notes
Panna Cotta is an Italian dessert of sweetened cream thickened with gelatin and molded.
Totally not in the recipe but the cream may be aromatized with rum, coffee, vanilla, or other flavorings. So feel free to get creative.
Photos