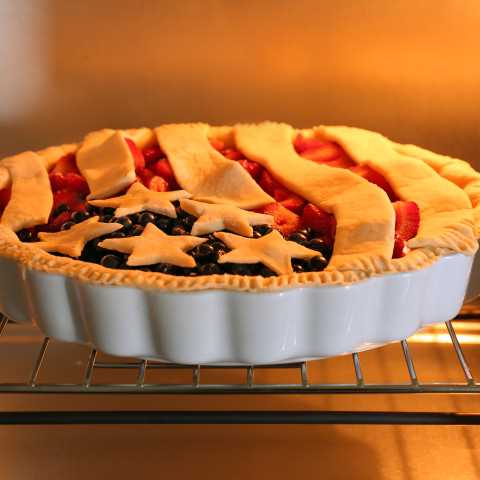 Katherine's Fourth of July Berry Pie
Source:
SMERF Schmoozer Katherine DiPietro
Ingredients
2 – Pillsbury Pie crusts 14.2 oz 2 CT.
8 cups mixed berries ; slive the strawberries
1 cup plus 2 tablespoons sugar
¼ cup cornstarch
¼ cup fresh lemon juice from 2 lemons
salt
2 large egg yolks
2 tablespoons heavy cream
Directions
Roll out 1 pie crust on lightly floured surface. Place pie crust in pie plate.
Stir together all berries, sugar, cornstarch, lemon juice and pinch of salt. Fill pie crust.
Whisk together yokes and cream. Roll our remaining pie crust on lightly floured surface, cut stars and stripes using cookie cutters, a knife or pastry wheel. Place pie crust over the top of the berries. Crimp edges of pie. Brush top of pie crust with egg wash. You can sprinkle with sanding sugar.
Preheat oven to 375 degrees.
Transfer to a parchment lined rimmed baking sheet.
Bake until juices are bubbling, and tops are golden brown, 45 – 50 minutes. (Tent with foil if crusts are getting too dark.) Let cool before serving.
Pie can be stored at room temperature overnight.
Notes
A berry, berry good pie for the Fourth of July!
Photos