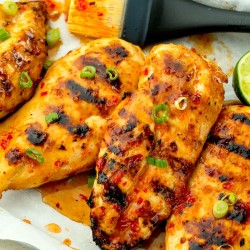 Jeff & Dylan's Sweet Chili-Lime Grilled Chicken
Ingredients
3 oz. mild chilies
12 oz. Franks Red-Hot sweet chili sauce
16 oz. mild salsa Verde
3 tbsp concentrated lime juice
1 cup water (from rinsing out containers)
2 tbsp Corn starch
1/2 c. low-sodium soy sauce
2 boxes Zatarain's Salsa Verde red beans & rice
3 lbs. boneless skinless chicken thighs
Orange wedges, for serving and garnish
Directions
1. Start the rice.
2. Start the sauce by adding mild chilies, Franks Red-Hot sweet chili sauce, mild salsa Verde, lime juice, and 1/2 c. water to a 7 quart Dutch oven.
3. Make a slery with the soy sauce and corn starch then add to the Dutch oven and start to heavy simmer.
4. In a deep skillet brown the chicken until almost cooked through. Add to Dutch oven and finish cooking.
5. Serve chicken & sauce over the rice and garnish with orange wedges.
Notes
1-21-21
Use 3 boxes of rice.
Made 7-8-2017
Instant Hit !!!
I added the chilies & salsa Verde.
Adjust the amount of chilies to adjust the level of heat.
Photos