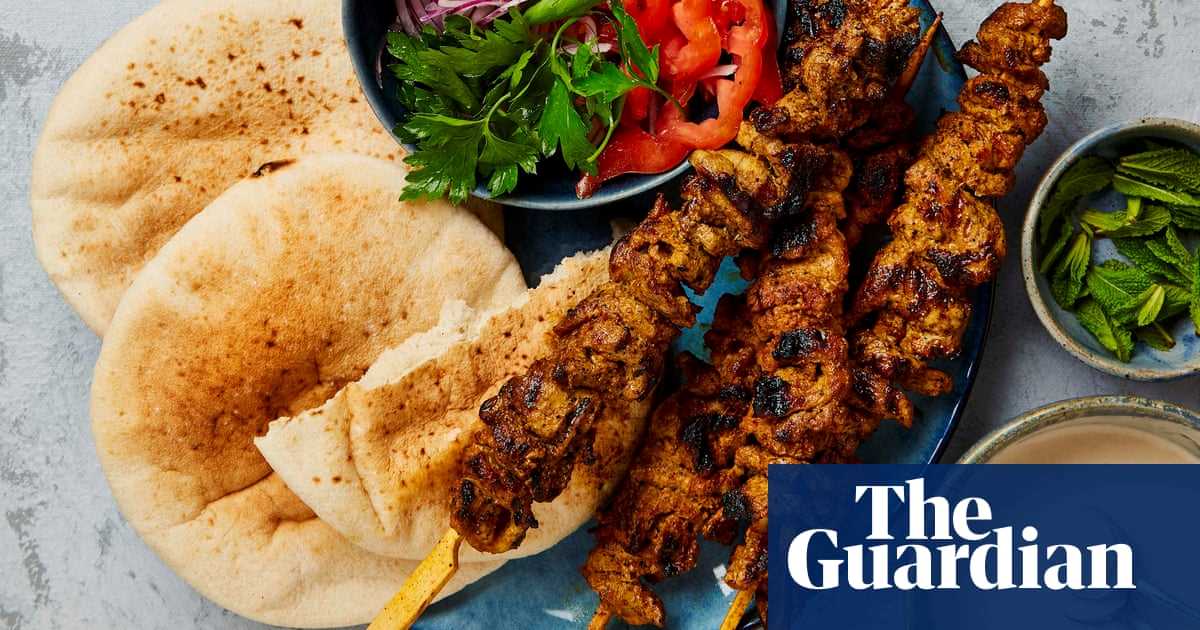 Yotam Ottolenghi's recipes for lamb shawarma and two vegetable sides
Grill/Smoker • Kebab, Lamb, Mutton + Goat
Ingredients
500g boned lamb shoulder, ideally with some fat
1½ tsp ground cumin
1½ tsp ground coriander
¾ tsp smoked paprika
½ tsp ground turmeric
1 pinch ground cloves
1½ tbsp apple cider vinegar
2 tbsp olive oil, plus extra to finish
50g Greek-style yoghurt
For the sauce
60g tahini
1½ tbsp lemon juice
2 garlic cloves, peeled and crushed
To serve (all optional)
4 pitta breads, or flour tortillas
1½ tbsp parsley leaves, ideally with a little stem attached
2 tbsp mint leaves, picked
½ red onion, peeled and thinly sliced
1 tomato, halved and thinly sliced
Salt and black pepper
Directions
1. Use a sharp knife to cut any larger pieces of fat off the lamb, but make sure to keep some fat on the meat. Cut the lamb into slices about ½cm thick and about 4-5cm long (if the joint is on the large side, cut it in half lengthways first) and put in a large bowl.
2. In a second bowl, whisk the spices, vinegar, oil, yoghurt, three-quarters of a teaspoon of salt and a good grind of pepper. Tip over the lamb and toss with your hands until the meat is well coated. Cover the bowl, put in the fridge and leave to marinate for at least two hours – ideally overnight, if you have time.
3. Whisk all the sauce ingredients, three tablespoons of water and a pinch of salt in a small bowl, until smooth and pourable.
4. Take the marinated lamb out of the fridge about 45 minutes before you want to grill it and skewer it on to four 23cm-long metal skewers (or four soaked wooden ones) and set aside.
5. Put a well-greased grill pan on to a high heat and, once smoking, grill the skewers (do this in two batches if your grill pan is on the small side) for seven to eight minutes, turning once halfway, until well charred in places and the lamb is just cooked through. Use a brush to baste the lamb a couple times with a little extra oil while it is cooking.
6. To serve, divide the pitta breads and lamb between four plates and let everyone build their own shawarma with their choice of herbs, vegetables and tahini sauce.
7. Grilled bread with tomato and fried garlic
8. Yotam Ottolenghi's grilled bread with tomato and fried garlic.
9. Beautifully ripe tomatoes and some stale bread are all you need to make this quick and easy starter or side. Make this dish your own by swapping in other breads and herbs that need using up.
Notes
Cook at 320F
Add half onion to base to help with even cooking
Cook to an IT of 185F
Baste with own juices during cooking
Rest for 10 minutes before serving
Photos